Go Back to the Blog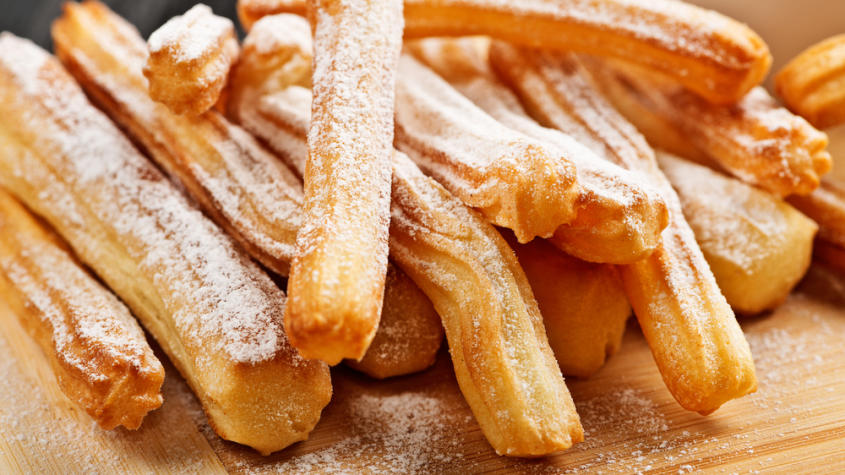 What Are Churros? Delicious Spanish Cuisine
Today we will discover the tastiest side of Spain!
Certainly, we have all tasted and loved the delights of Spanish cuisine. From tortillas, paella or tapas, many are the most typical flavors that can not be missed on a visit to Spain. In this article, we will explore the Spanish churros. Perfect for cold days ... like the ones that are here now!
The Origins
It is not known for certain what the true origins of the churros. However, the most supported story is that the churros were born by the hands of sheepherders who, living in the high mountains and having limited access to fresh food, decided to fry a dough made of flour and water to fight the fast. It is said that this recipe had immediate success which quickly multiplied across the country!
The Recipe and the Varieties
We already know that the churros recipe is quite simple: a dough based on wheat flour and water, in a very fine cylinder format, and fried in a vegetable oil immersion. Then they are dipped in a bed of sugar (and cinnamon, optionally).
As one would expect, some people would rather take a chance and stuff them with chocolate, condensed milk or fruit toppings. In some countries, it is even traditional to dip the churros into cheese, ham or chicken and then turn them into a salty snack. In Spain, the churros are usually served thinly and accompanied by a thick hot chocolate. They are absolutely to die for! So much so that your visit to Spain will never be complete without a "churros con chocolate" experience.
Where to Buy Churros
As we have seen, much is the fame associated with churros. Fortunately, it is very easy to find these little delights everywhere, in several countries. Whether you are in Spain, Portugal, the United States, Brazil or Latin America, these tasty snacks can be found at all fairs, theme parks, and even street food stalls. Just be aware along your walks through the cities! There are even cafes and restaurants that serve them as a snack or dessert ... Do not worry: you will discover them easily! Enjoy!
The fame of these crunchy snacks is so great that throughout Spain you can find gastronomic excursions to taste the best. Departing from Barcelona or Madrid, have the opportunity to satisfy your most wishful wishes!
The only task is to invite those you love best to explore together the memorable flavor of these hot and crispy rolls. And, of course, decide if they prefer simple or stuffed. Yummy!
Find our suggestions here:
Chocolates and Sweets Tastings - Walking Tour in Barcelona
Madrid Walking Tour: History, Gourmet Tapas, and Wine Tasting
Go Back to the Blog
Subscribe our
Newsletter
and discover our news and monthly promotions