Go Back to the Blog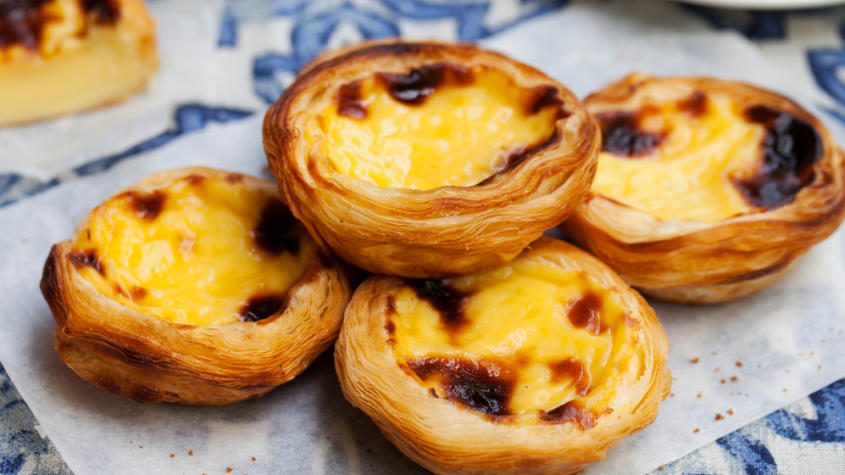 Lisbon,Portugal
Curiosities,Food
The difference between Pastel de Nata and Pastel de Belém
When you think of Portuguese sweets, Pastel de Nata or Pastel de Belém is one of the first specialties that come to mind. The famous custard tarts of puff pastry, egg, milk, sugar and the perfect blend of lemon and cinnamon are the most popular sweets in the country, and both are delicious hot and cold. However, the common idea that the difference between them is a linguistic question could not be more wrong. It is thought that the Portuguese of the North of the country call them "Pastel de Nata", while those of the South prefer the term "Pastel de Belém". But no, the explanation is not that one.
So, what is the difference between Pastel de Nata and Pastel de Belém?
In fact, it has everything to do with its origin. The first recipe of the Pastel de Belém was created in 1837 by the monks of the emblematic Jerónimos Monastery. To date, the recipe is kept secret and therefore becomes a true specialty! Thus, only at the Fábrica Pastéis de Belém, the family pastry with more than 100 years where they are made, you will find the original Pastéis de Belém. Only there these little custard tarts can be called that since its name was even patented!
All others, from other patisseries in Lisbon, from other areas of Portugal or even exported to other countries are called Pastéis de Nata. The recipe varies, the ingredients too. Some are more crispy, some are softer. That does not mean they are better or worse... they just are not Pastéis de Belém. Those are absolutely unique in the world!
Such is the fame and historical and almost cultural value of Pastel de Belém, that it was elected one of the 7 Wonders of Gastronomy of Portugal, in 2011. This Portuguese pastry is so famous that it even has a cooking class for who is visiting Lisbon!
Now you know what the difference is between Pastel de Nata and Pastel de Belém. But make no mistake: they are all worthy of the adjective "DELICIOUS".
Go Back to the Blog
Subscribe our
Newsletter
and discover our news and monthly promotions