Go Back to the Blog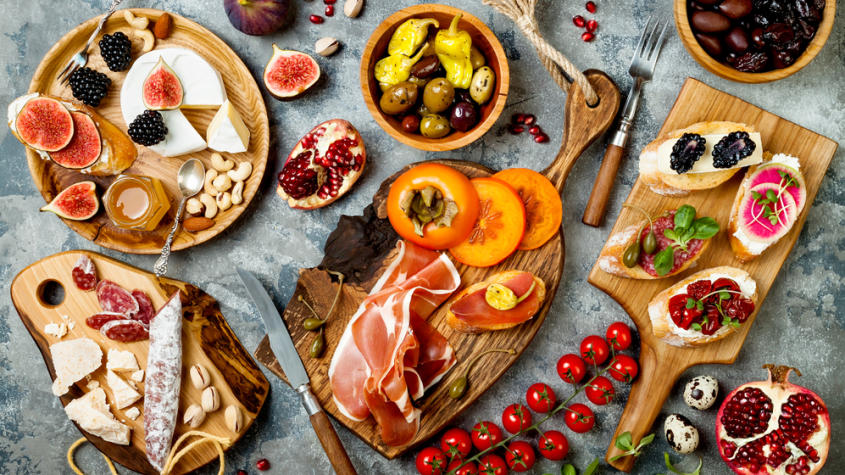 Spain,Basque Country
Curiosities,Food
Catarina Figueirinha
|
04-10-2019
What is the difference between tapas and pinchos?
It is very common to confuse tapas and pinchos since they are two small portions of Spanish food. However, these appetizers are quite different, just like its stories.
Both are small portions of food, but there are two big differences between the two cuisine delicacies. So, let's start by the most popular, tapas!
Tapas
You probably know what Spanish tapas are and you may have had the opportunity to try it more than once! Originally, a tapa is an aperitif that is always offered with a drink as a courtesy of the bar. Normally is just a smaller sized portion of the main dish, served in a plate, like a tortilla, huevos rotos or paella!
Today, this style of snack becomes so typical that consumers have started to replace long and formal meals with informal and sociable tapas.
Pintxos or Pinchos
The term "Pintxo" has cropped up from the Spanish word "pincho", which itself comes from the verb "pinchar" which means "to pierce".
While tapas originate from the center of Spain, pinchos are traditional from the Basque country. The autonomous community located in Northern Spain has a strong identity and culture being the Basque cuisine a very important part of it. The region even has its own language and that's exactly why you may see the word spelled in two different ways: 'pinchos' in Spanish and 'pintxos' in Basque.
The pincho is normally served on a piece of bread. However, as Basque cuisine has evolved, the food is now likely to be pierced to a piece of bread than before.
To recap, in the Basque country, you are served "pintxos". It is never written "pinchos" and they are never called "tapas", remember that during your tour in Basque country! So if you see a mini bite of tortilla on a piece of bread, we can call it a pincho but if it is a tortilla on a plate that you have to eat with a fork, then we can call it a tapa.
After all, seems easy to distinguish a tapa from a pincho. You can also find here the most typical foods in Spain!
Go Back to the Blog
Subscribe our
Newsletter
and discover our news and monthly promotions