Go Back to the Blog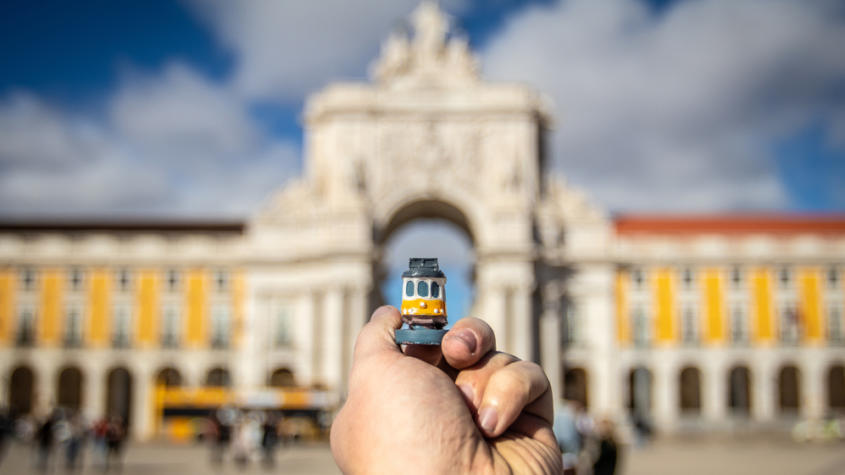 Catarina Figueirinha
|
09-10-2019
The best souvenirs to buy in Portugal
If you are like us and love to take a little something home with you as a reminder of your travels, or just like to offer something to your friends and family, this article fits you perfectly! Discover the best souvenirs you should buy during your holidays in Portugal!
What should I bring from my Portugal holidays? You ask. Well, it could become a challenging task, once Portugal is home to fantastic quality products. Therefore, we are sharing with you some of the best gifts to bring back from Portugal!
Azulejos – the typical Portuguese ceramic tiles
This is probably the most famous item on this list! These blue and white ceramic tiles are called "azulejos" which decorates the façades of many of the old buildings of Portuguese cities, like Porto and Lisbon. Some say that these colors were influenced by the Age of Discoveries (15th-17th centuries), considered fashionable at the time. Those masterpieces are not just beauty, it tells you stories about Portuguese history, religion, and culture. Numerous stores in Lisbon sell azulejos, both hand-painted and factory-made.
Read more about Portuguese tiles in the next article!
Port Wine or Ginjinha
Another great idea is bringing a bottle of Port wine or ginjinha. Port wine is worldwide know made by adding a proportion of grape spirit or brandy. It is an exquisite wine produced in Douro Valley, the first vineyard area in the world to be legally demarcated. So, if you get the chance, you should definitely try some Port wine during your trip!
In the order hand, you have ginjinha, a famous Portuguese cherry liqueur sold all over Lisbon. You can buy it in bottles, in supermarkets as well as specialist bars. But the traditional way of drinking it is between or just after meals. Some people like to hold onto their glass as a souvenir of their trip to Portugal, which has prompted many bar owners to switch to plastic cups.
No Portuguese gourmet experience is complete without wine!
Discover the most interesting facts about the famous Port wine!
Portuguese typical sweets: Pastéis de Nata and Ovos Moles
A huge part of Portugal most famous pastries have a surprisingly pious origin in Catholic convents and monasteries, God bless them!
Pastel de Belém and Pastel de Nata, are of the most legendary desserts! Those are obviously the first things that come to Portuguese mind, you can enjoy them in practically any "cafés" or bakery in Portugal, but the original recipes come from Lisbon at the Pastéis de Belém pastry shop in Belém.
Ovos moles were born in Aveiro and they were the first conventual pastry to receive protected status from the European Commission. These delicate wafers are filled with a smooth custard of egg yolks and sugar that must be cooked to a very precise temperature so that when you bite into the wafer, the sweet yolk cream melts in your mouth!
We are sure your family and friends will love to have a little taste of Portuguese cuisine!
Discover how to prepare ovos moles and find out the difference between pastel de nata and pastel de belém!
Roosters and Sardines Replicas
The Barcelos Rooster is considered the unofficial symbol of Portugal. You can find this emblem in many forms in every local shop and especially gift shops. This rooster is mostly found in its typical ceramic form, but why a rooster? It's because a legend takes place in the 15th century in Barcelo's city!
Discover the story behind this legend!
The sardines are witnessed during the Festival of Santo Antonio in Lisbon every June. A popular celebration of the patron saint of the capital, Santo Antonio, and the beginning of the sardine season. So, Sardines are like a symbol of Lisbon city, very colorful and for all the tastes!
Olive oil
Portugal is one of the best olive oil producers worldwide. It's one of the most exported products of the country, its rich patrimony results in diverse olive oil flavors. Besides, Portuguese famed gastronomy wouldn't be the same without one of its main ingredients, olive oil. Delightful!
Yes, we warn you, the challenge is to choose just one gift!
Go Back to the Blog
Subscribe our
Newsletter
and discover our news and monthly promotions