Go Back to the Blog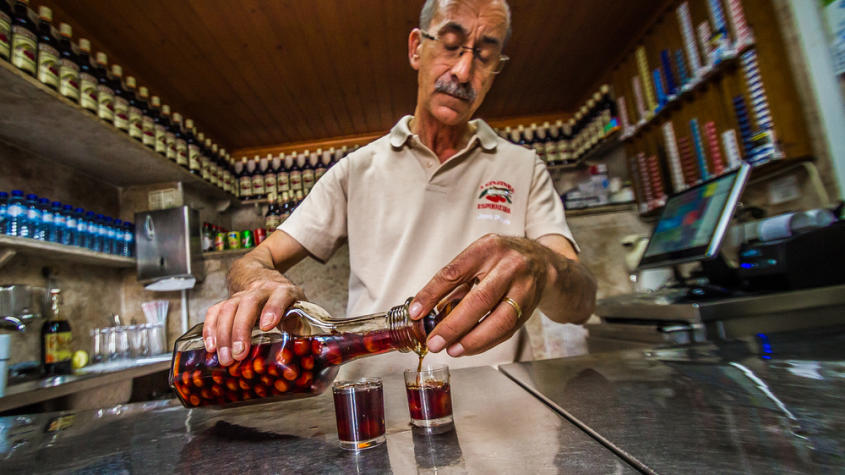 Catarina Figueirinha
|
21-11-2019
Drinking ginjinha like a local
Ginjinha is one of the most consumed liqueurs in Portugal and, therefore, a must-taste during your visit to this country, you can find this liqueur literally anywhere! However, it is in the Lisbon region that you will see it more often, but with so much choice, it is difficult to find the right places to taste this sweet liqueur! Discover the most typical establishments and where you can taste the real ginjinha in Lisbon!
Origin of Ginjinha
The creation of fruit-based liqueurs dates back to ancient local times, where it was thought to be medicinal or to cure various ailments. Ginjinha is made from sour cherry, fermented in brandy and accompanied by sugar, water, and cinnamon. People say ginjinha was the result of an alchemist friar who wanted to take advantage of the large quantities of sour cherry in Obidos. Therefore, this famous drink is born in Óbidos, a region that enjoys a particular microclimate and favorable to the production of this fruit. If you have the chance, visit Óbidos and taste ginjinha in its home town.
If you are not able to visit Óbidos, you can always discover the most typical Lisbon taverns where ginjinha has been served for centuries. Sound good?
You will listen to the emblematic question "with or without them?". "With them" is actually the liqueur with the sour cherries and "without them" is just the liqueur. The answer we leave it with you!
"A Ginjinha"
Here you will only be able to enter to order and consume your ginjinha. It is a very small space where you will have a narrow counter and a friendly clerk to fulfill your request. It is almost impossible to stop by and have no queue to taste the delicious ginjinha served at this counter since 1840! This house serves the famous Ginjinha Espinheira in honor of Francisco Espinheira, the creator monk of Ginja Liqueur!
"Ginjinha sem rival"
"Ginjinha sem rival" means Ginjinha with no competition.The bottle label of this cherry liqueur states that "This house has never competed for any national or foreign exhibition." Something that may seem contradictory, tells us a lot about the philosophy of this brand that no need to "prove" that its ginjinha is really good. This is a family business and the current manager already represents the fourth generation!
"A tendinha do Rossio"
A small little house that in the 1830s was home to revolutionaries, poets, fado singers and artists. This place actually had inspired the theme "Velha Tendinha" performed by the famous fado singer Hermínia Silva, in 1934. In addition to its delicious ginjinha, this space breathes history and stories of true artists!
Now that you know the ginjinha is a must, enjoy a tour through the most delicious Lisbon flavors in our company, you will not regret it!
Go Back to the Blog
Subscribe our
Newsletter
and discover our news and monthly promotions