Go Back to the Blog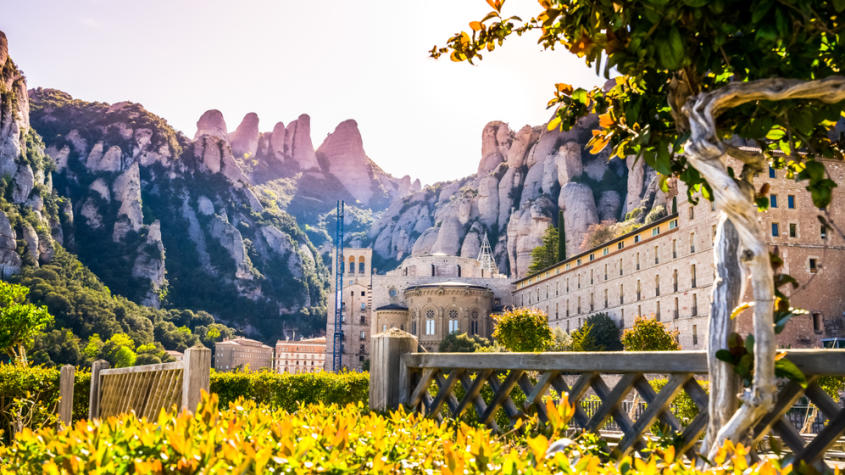 Spain,Montserrat
Curiosities,Religion
Catarina Figueirinha
|
10-01-2020
Everything you need to know about Montserrat Monastery history
The monastery that stands at 1,236 meters above the valley floor, is the second most popular pilgrimage center after Santiago de Compostela. It houses an important dark wooden sculpture of Virgin Mary holding the infant Jesus, known as La Moreneta. This is just an intro to the incredible Montserrat Monastery history, stick around!
Just a one-hour driving from Barcelona, Montserrat is a wonderful mountain that attracts people not only in a spiritual way but also for its natural beauty. One of Catalonia's most beautiful areas, Montserrat Mountain was established as a natural park in 1987. Here you will find a rich flora, up to 1250 species! This is why this area has several ways to be explored. In Montserrat, you can do a hike, take a cable car, do a horse ride, ride a bicycle and even, take a hot air balloon.
What about Montserrat Monastery's history?
The history of Montserrat is incredible and started in 880 when a small group of shepherd children saw a bright light descending from the sky in the Montserrat mountains. At this very spot was found an ancient wooden statue of the Virgin Mary, known as La Moreneta (Black Madonna), discover more about the legend of Black Madonna.
Since that event, the statue has become a symbol of veneration for many who believed that many miracles arose from the power of this Virgin Mary figure. She has been Catalonia's patroness since 1881 and her blessing is particularly sought by newlyweds.
Due to the importance of the area, four chapels were built on the mountain (St Mary's, St. Iscle's, St.Peter's and St. Martin's), inhabited by monks who lived a solitary life of prayer. In 1025, Oliba, Abbot of Ripoll and Bishop of Vic, founded a new monastery in the heart of Montserrat. That's how Montserrat Monastery become one of the most important pilgrimage centers in Spain, more precisely, the second one. In order to manage visitors' volumes, the monastery building extended in size.

Did you know that Montserrat Monastery has a famous Boys' Choir?
Another highlight of your visit to Montserrat Monastery is to listen to the famous Basilica choir boy. Called L' Escolania, produce important composers renowned around the world for its music high standard.
According to the official site of Abadia de Montserrat, these are the performance timetables of L' Escolania:
From Monday to Friday:
13.00h Salve and Virolai
From Monday to Thursday:
18.45h Vespers, Salve Montserratina and Polyphonic Motet
Saturdays:
The Boys' Choir doesn't sing
Sundays and religious holidays:
12.00h Salve and Virolai
18.45h Vespers, Salve Montserratina and Polyphonic Motet
Choir performance times may vary according to special religious celebrations and the school calendar.
People usually say that Montserrat is one of the best day trips from Barcelona, a good reason to have so many day tours options. You can do a half-day morning tour or afternoon tour, but if you're looking for an extended tour, you can also book a full day trip.
Well, this is up to you, but be sure to save a day for Montserrat Monastery, at least you already know the history!
Go Back to the Blog
Subscribe our
Newsletter
and discover our news and monthly promotions