Go Back to the Blog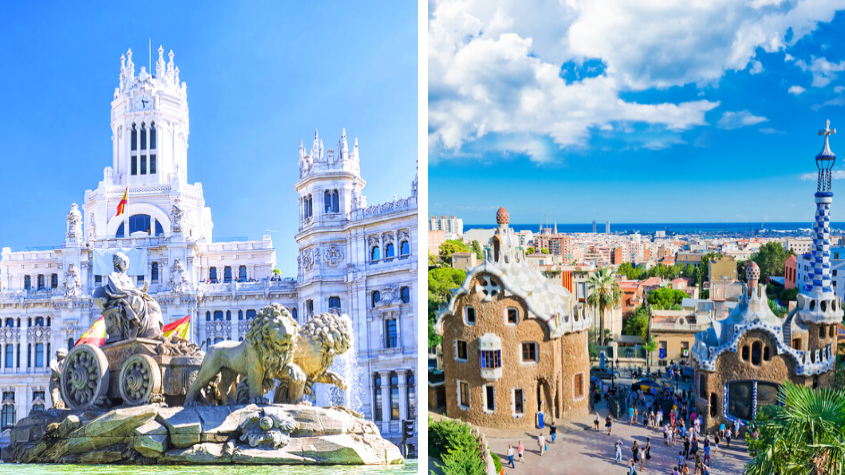 Spain,Madrid,Barcelona
Curiosities,City guides
Catarina Figueirinha
|
18-02-2020
Madrid vs Barcelona, which one do you should choose?
Madrid, or Barcelona, that is the question! If you are undecided about which of these Spanish cities to choose for your next holiday destination, this article fits you perfectly. This is the time to discover the main differences between Madrid and Barcelona and then choose the city that delighted you the most.
Madrid vs Barcelona, the final decision!
Football
FC Barcelona vs Real Madrid
You know it will be a great match when FC Barcelona and Real Madrid play together, this is why we call "El Clásico" every time they do it. The sports world stop to watch them play, but you already know that! Of course, we all have a team that we support more often, but we can't deny the importance of both to the soccer world.
Camp Nou is a must for all football lovers! This sporting venue which represents the FC Barcelona club is seeing as one of the most famous. We know that everyone who is touring in Barcelona will surely visit Sagrada Familia but, Camp Nou is a kind of temple too, don't you agree? We recommend a tour in Camp Nou, know as Camp Nou experience, which allows you to visit the main points of the stadium, having access to the private areas.
On the order hand, we have the wonderful Santiago Bernabéu Stadium, the official home of Real Madrid. It is cataloged as the third Museum of the city of Madrid! You have to agree that this sports venue witnessed historic moments in the world of football, for instance, Cristiano Ronaldo scores here his goal number 4000 going down in history as one of the best soccer players of all time! Take a tour in Santiago Bernabéu to get a unique player's perspective!
Check the best football stadiums to visit in Spain
Food
Madrid vs Barcelona
Gastronomy is appreciated in any corner of Spain and its quality is unquestionable! So when it comes to food, there are only different pros in Barcelona and Madrid.
You can enjoy tapas, paellas, tortilla, and other typical Spanish flavors in both Barcelona and Madrid. With the exception of the "cocido Madrileño", which you will only taste in Madrid. The best place to give it a chance is at the famous Mercado de San Miguel.
Did you know that in Madrid is usually offering you a tapa you ask for a drink in a bar? Something that's not so common in Barcelona. But, Barcelona also has its trump cards! Being so near to the Mediterranean you can aspect daily fresh seafood in your table! This part of Spain assigns great importance to food, having some of the most famous food markets in Europe, check the most trending food markets in Barcelona. However, Barcelona is a more touristic city and inevitably, more expensive. Whether you choose Madrid or Barcelona, you will certainly be well served with both!

Architecture
Modern vs contemporary architecture
Barcelona, world-famous for Gaudí's masterpieces, is a paradise for modernist enthusiasts. Being architecture one of the main reasons to visit Barcelona, this is one of the coolest things to do in this city, we risk saying even mandatory. But, it's not all about Gaudí, Barcelona owns one of the most extensive Gothic old city centers in Europe!
As regards Madrid, the Spanish capital can rival with other European capitals such as Paris, Rome or Berlin, what's that supposed to mean? Madrid's a cosmopolitan city! Here you will be able to see different architectural styles range from Baroque to neoclassical buildings. The best place to start exploring Madrid architecture is along Gran Via. The most famous street in Madrid proudly exhibits beautiful Art Nouveau and Art Deco facades of banks, luxury shops, renowned cinemas, and theaters.
Local activities
Beach vs Museums
Barcelona has a beach, Madrid doesn't. So, if you're looking for taking a sunbathe and dive into the sea during your holidays, Barcelona is the answer to your prayers. Usually hot in the summer, Barcelona takes advantage of its beaches to refresh, harder for Madrid. In Madrid, the heat can be suffocating in summer, since here the temperatures tend to be more extreme at different times of the year.
But, it's not all about beach, right? Madrid offers a lot of cultural activities and hosts three of the most famous art museums in Spain and Europe: Prado Museum, Reina Sofia and Thyssen-Bornemisza! Prado Museum alone attracts more than 2 million visitors per year, needless to say, that that is one of the most important in the world! Here they go the main reasons to visit the Prado Museum!
Barcelona also has some interesting museums, not so focused on art, but quite interesting and even with free admission!
So, which city fits you better? Have you already make a decision or, on the contrary, are you more torn?
Go Back to the Blog
Subscribe our
Newsletter
and discover our news and monthly promotions