Go Back to the Blog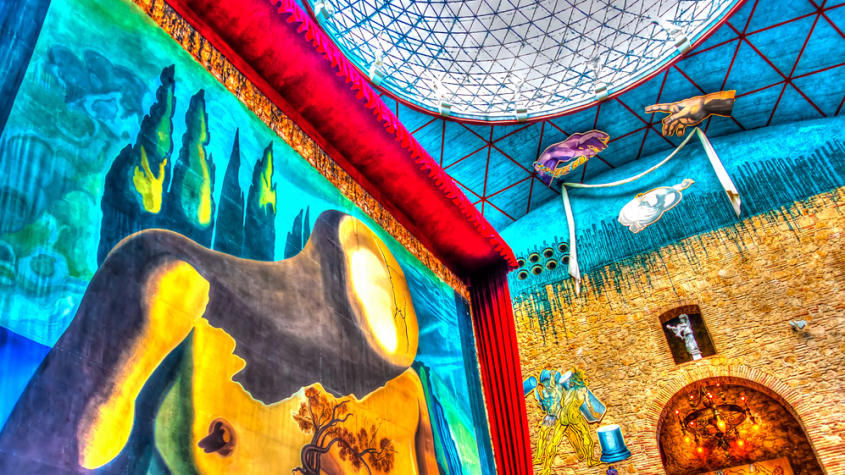 Barcelona
Art and culture,Museums
Catarina Figueirinha
|
05-12-2019
Dalí Theatre-Museum: a delightful eccentric experience!
Wherever you go, you won't find a museum like this one! Dalí Theatre-Museum is described as "the world's largest surrealist object" and is a journey through the creative mind of one of the greatest surrealist artists in the world, Salvador Dalí. Every piece you find inside this museum will make you wonder "What was Dalí thinking when he created this?".
Best known as the birthplace of Salvador Dalí, Figueres is also the stage of the second most visited museum in Spain, receiving an average of 3500 visitors per day. The Dalí Theatre-Museum stands out for being one of the most bizarre museums in the world, which is not surprising, after all, this is a temple dedicated to the life of the surrealist artist Salvador Dalí!
It's called "Theatre-Museum" because it was built from the ruins of the municipal theater, after being burned down during the Spanish Civil War in the late 1930s. Thirty years later, Salvador Dalí was invited by the city to give a new life to this venue, and who better than Dalí to do it?
This museum exhibits more than 1500 works by the Catalan artist, ranging from his first creations, more linked to impressionism and cubism, to the classic surrealist pieces, a style that Dali later adopted. There is also a collection of works created specifically for the Museum, such as the Mae West Room, the Wind Palace gallery, the Rainy Cadillac and the painting Gala Nude Watching the Sea which at 18 meters distance appears as President Lincoln, among others.
Less than an hour's drive from Barcelona, Figueres is a small town rich in history and full of Art Nouveau-style buildings that are worth visiting, even if you only have one day to do it. So don't think that Dalí Theatre-Museum is the only place of interest this charming city has to offer you. We recommend you to book your ticket Dalí Theatre-Museum in advance, usually, the queue is about 45 minutes, time you could use to get to know Figueres better!
The time has come, we will finally explore the fertile mind of Salvador Dalí!
Go Back to the Blog
Subscribe our
Newsletter
and discover our news and monthly promotions