Go Back to the Blog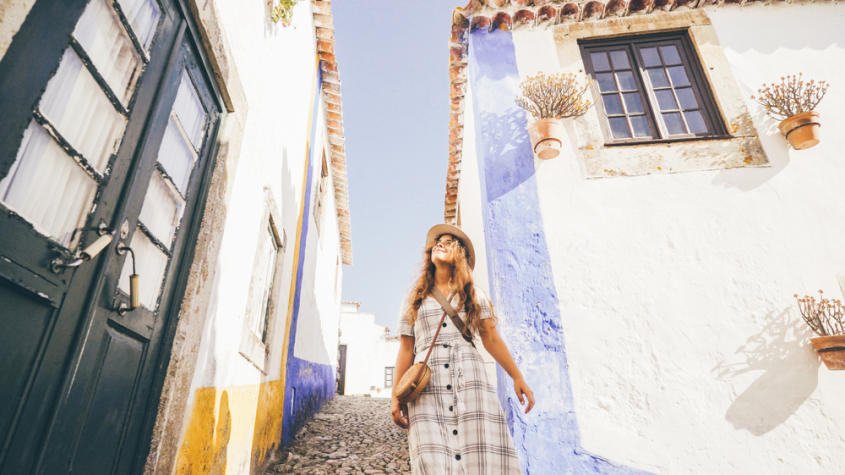 Lisbon
Visitas Guiadas,Walking
Catarina Figueirinha
|
13-02-2020
Best day trips from Lisbon
You come to the right place if you're looking for the best day trips from Lisbon! Even been a highly cultural city that could keep you amused for days, Lisbon is surrounded by the most enchanting places, enjoying a privileged location to start a marvelous journey. Portugal is so much more than Lisbon and you'd better get out of this country discover it for yourself. So don't be lazy and catch the next tour, you won't regret!
Check our best day trips from Lisbon
We can't fool anyone, Sintra is a must! Being the most popular day trip from Lisbon, it shows a great collection of castles and palaces, often giving the illusion of being in a fairy tale. Since there is a lot to see here, the most difficult task is to choose which places to visit, many people try to go everywhere in one day, but it never works.
So, let's talk about what you can see and do in Sintra:
Pena Palace is by far, the biggest attraction in Sintra, always needing to buy the ticket in advance to guarantee your seat. Once a monastery, Pena Palace is now recognized as a National monument of Portugal, a UNESCO heritage site and, one of the seven wonders of Portugal, titles are many but more than deserved. This lovely Palace located at the top of the hillside of Sintra is one of the most famous examples of Romantic architecture in Portugal and, it's surrounded by an exotic park. Yeap, Pena Palace is a must-see, put it on your list.
There is a wave of mysticism in this place, making it interesting beyond beautiful. Quinta da Regaleira is home to many fountains, tunnels, caves, and grottoes, perfect to capture the best pictures for Instagram! The architecture of the palace represents the Manueline and Gothic style and it's also classified by UNESCO as a World Heritage Site. Luigi Manini, Quinta da Regaleira architect, designed enigmatic elements like the famous Initiation Well and stones statues of Greek gods in the Promenade of the Gods path. its believed this place hides symbols related to alchemy and Knights Templar.
Check this tour that includes Quinta da Regaleira and Pena Palace
This palace is absolutely outstanding! Designed in Gothic style, draw upon Indian and Moorish influences. Again, it is another example in the Sintra of the romantic era, and what an example! Monserrate Palace is located in an enchanting garden filled with the most exotic plants from all parts of the world, capable of inspired writers and travelers, of course!
It's in the heart of Alentejo, a unique region of rolling plains, olive trees, and vineyards, that you will find Évora. Another UNESCO heritage site, Évora historical center has a Roman past that is still very present today. You cannot miss the opportunity of seeing the Roman Temple and the Cathedral of Évora, two of the biggest attractions of the city. Besides these two, Évora has also a very frightening chapel, the chapel of bones, made of thousands of real human bones! Are you in?
You've probably heard of Knights Templar from books and movies like "The Da Vinci Code". This was an order created with the goal to protect the pilgrim's on the way to the Holy land at the beginning of the XII century. From Lisbon, you can follow the footsteps of these templars in towns like Almourol and Tomar.
In the middle of the Tagus river is located an island and its mystique castle, Almourol Castle. This is one of the most famous military monuments in the country, but also one of the most beautiful, emblematic symbol of the Knights Templar.
Tomar is home to one of the most important monuments of Portugal, once the headquarters of the Knights Templar in Portugal, we're talking about the Convent of Christ.
Two towns full of history and unsolved mysteries, indicated for you, Sherlock!
Taking advantage of the religious theme, let us introduce Fatima, the religious center of Portugal! Religious or not, you must visit this place where many claims to feel a special feeling and a unique peace of mind. This is one the most important Christian pilgrimage sites in the world, since the apparition of the Virgin Mary to three little shepherds, listed by The Vatican as a "belief-worthy" experience. Take a day to explore the different religious buildings you can find here and attend important masses.
Even if we wanted to, we couldn't forget about Óbidos, probably the most picturesque town in Portugal! You will always have the castle of the city as a background while you strolling its narrow streets and climb the fortified wall, yeap Óbidos is surrounded by ancient walls! You will fall in love with its little whitewashed homes decorated with flower pots! Last but not least, you can't leave Óbidos without taste a ginjinha, one of the most famous liqueurs of Portugal is produced here, a cherry liqueur!
There's also a day trip to Óbidos that includes the beautiful Bacalhôa Buddha Eden. Not a very touristic park, Buddha Eden is a great place if you're looking to chill with lots of enchanting gardens and Asian art to enjoy. Often called the "Garden of Peace", borns in response to the Taliban government's destruction of the Giant Buddhas in Afghanistan. It worth every minute of your visit!
Now you know, as interesting as the Portuguese capital may be, there are many other cities and places to visit not far from Lisbon!
Go Back to the Blog
Subscribe our
Newsletter
and discover our news and monthly promotions