Go Back to the Blog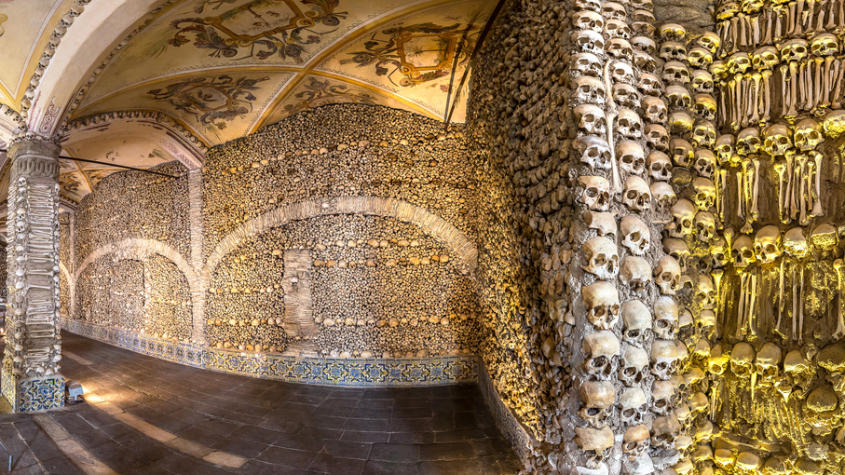 Portugal,Evora
Curiosities,City guides
Catarina Figueirinha
|
18-10-2019
The Mysterious Chapel of Bones in Portugal
Right in the entry of this mysterious chapel covered by bones, we find the remainder of the vulnerability of human life. This is without a doubt, one of the most famous monuments in Évora. This place is always crowding with tourists, is this because there is a kind of fascination for the sinister?
When we talk about Évora, the Chapel of Bones is a topic of conversation. This happens because this monument is one of the top attractions of this city, which its historic center was recognized as a World Heritage by UNESCO. But why is this monument one of the most visited in the city of Évora? How did this peculiar chapel had born? Let's find out!
The Chapel of the Bones was built in the seventeenth century by three Franciscan friars, a building that used to be a dormitory and a reflection room for them. The idea was to create a space for reflection that would convey the ephemerality of human life and, at the same time, to free some space occupied by the cemeteries in the city. This was a creative solution, but at the same time, very sinister!
They decided to remove the skeletons from the earth and give them a new home, the Chapel of Bones, which was then decorated by various skeletons. There are probably more than 5000 human skulls arranged by the walls, columns and the ceiling of this building. But let's focus on the message we found before entering this chapel.
"We bones that are here, for yours await" It gives you chills? This is a warning to those who are visiting the chapel, a reminder that everything is ephemeral. With the purpose of transmitting to the population that death is no more than a simple passage to heaven or to hell...
The Chapel of Bones explains to its visitors the history and the religion of the old societies.
However, a question remains unanswered: Why this building considered so sinister, is it always so crowded? Is it the fascination of the macabre that makes move hundreds of visitors every year to this chapel?
This question can be answered by you, why do you want to know more about this monument?
Discover the city of Évora and the Chapel of Bones on a full-day tour departing from Lisbon!
Go Back to the Blog
Subscribe our
Newsletter
and discover our news and monthly promotions