Go Back to the Blog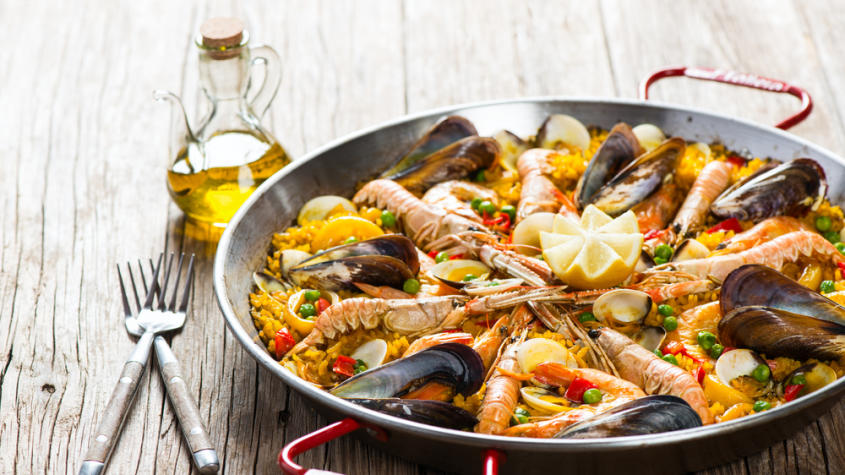 Catarina Figueirinha
|
28-01-2020
Top 3 most traditional Spanish dishes
Visiting Spain without sampling its delicious food is like going to Rome and not seeing the Pope. Find out in advance which are the most traditional Spanish dishes you cannot miss during your stay in Spain!
On a real Spanish table, there are three famous dishes capable of leaving anyone with mouthwatering! However, it is not enough only to know which are those flavors, you need to taste it to understand what are we talking about. Enjoy your next stay in Spain to start your tasting session!
Tapas
Whether it is to eat as a starter or to dine, you leave without understanding the concept and above all, "to get a taste" of that unresistible cuisine! They are small portions of the varied Mediterranean cuisine that only Spain owns. The idea is to taste as many flavors as possible and share it if you can!
Do not forget to check the quality of a real ham (pata negra and serrano) and without tasting the dishes based on the succulent Spanish tomato in the "pan con tomate" or the cold tomato soup gazpacho.
Small in size but huge in flavor!
Tortilla
A classic of Spanish cuisine! The tortilla is undoubtedly one of the main Spanish dishes and also, one of the oldest. There are those who eat tortilla as an accompaniment, others like the main course! This simple recipe is a real delirium for its fellow countrymen. The tortilla is so popular that it even had the right to be part of a popular expression " Dar la vuelta a la tortilla!" (turn the tortilla around).
Paella
The last meal attracts for its flavor and also for its vibrant colors! The paella is originally from Valencia and has an as main protagonist, the rice that combines with a set of delicious ingredients and spices. According to tradition, the preparation of a good paella requires the use of fresh and high-quality products. The initial recipe was prepared only with meats and vegetables but nowadays, seafood is added which creates an even more appealing version of paella! Want to learn how to make it? We have the paella recipe!
Now that you know what you cannot miss in a Spanish table, you just have to choose the city you want to visit: Madrid, Barcelona, Valencia, Seville, Granada, Cordoba, Costa del Sol, Tenerife, Bilbao?
Go Back to the Blog
Subscribe our
Newsletter
and discover our news and monthly promotions