Go Back to the Blog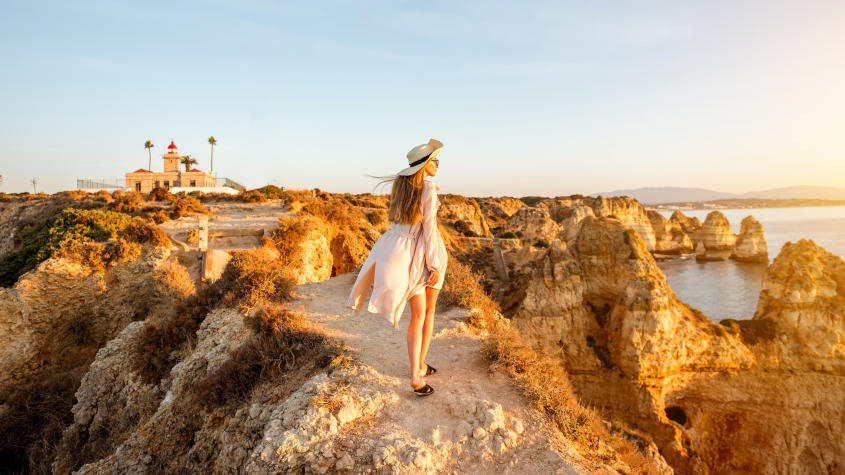 Portugal
Curiosities,City guides
Catarina Figueirinha
|
06-07-2020
15 Reasons why you should include Portugal in your 2020 holidays
Portugal is consistently ranked as one of the best and most affordable travel destinations in Europe. Even with a wave of success, this country continues to be loyal to its history and roots. See it for yourself!
Why visit Portugal in 2020
1. The first European Country to received the 'Safe Travels' seal from World Travel & Tourism Council
Even with the whole pandemic COVID situation, Portugal continues to stand out for the best reasons. This country was the first European Country to receive the seal that recognizes destinations that comply with health and hygiene protocols in line with the Safe Travel. So, stop keeping asking if Portugal is a safe country for your 2020 holidays.
2. Sun and Sea
Any time is perfect to visit this amazing country thanks to its Mediterranean climate. Its huge coastline bathed by the Atlantic Ocean brought Portugal closer to other peoples and cultures. Visit its beaches and do not miss a sunset in this country!
3. Small country
Yeap, Portugal is a small country and this is not a bad thing, do you know why? Because you can take one day to explore more than one city, whole within striking distance. However, do not be fooled, the heritage of this country is very vast. Reserve a few days to visit what you really don't want to miss, if you don't, it will be very easy to disperse, in every corner Portugal has a wonder to discover!
4. Portuguese wines and its regions
Our fish thought when we talk about Portuguese wine is Port. Port wine is, with a doubt, one of the most famous Portuguese wines, but it is just one of this huge and exquisite list. Besides its unquestioned delicious flavor, these wines born in the most elegant wine regions! Douro Valley was the first wine region to be declared a World Heritage Site by UNESCO. So, don't just taste these wines, try to explore its vineyards and local estates.
Check these wine experiences from Porto!
5. Hiking and trekking activities
One of the best activities you can experience in Portugal is hiking any of the wonderful paths. You can reach amazing sceneries, it does not matter where in Portugal you are staying. This country owns outstanding landscapes to do some adventurous traveling. Portugal offers a wide range of hiking trails and itineraries. Check this awesome tour!
6. Many ancient castles to count
You did not think in Portugal when the talk is about castles? That's a mistake, Portugal literally has hundreds of outstanding castles from all over the county. This can be a great destination for doing some castle-hopping, what do you think? Discover our list of Sintra Best Castles!
7. Beers
Is there anything better than a cold beer for a hot summer day? Portugal is known for its exquisite wines, but what about the beers? Beer is a big part of Portuguese culture and this drink is a perfect match for many traditional dishes. You can't consider yourself a beer lover if you did not try Portuguese beers! Take the opportunity of doing a craft beer tour!
8. The nightlife lasts until morning
It is home to many discos, bars, and nightclubs, all catering to different tastes and interests! All this at very low prices compared to other European countries. Nighttime venues begin opening later and do not close until early the following morning. Go wild on a night out in Lisbon or Porto!
9. Portugal on a budget
Portugal is one of the cheapest countries in Western Europe, but it does not compromise at all venues, products, and facilities quality. For the most part, Portugal is an incredibly affordable destination, even becoming a trendier destination price remains affordable.
10. Friendly country
Portugal is one of the most welcoming countries for many visitors. Portuguese are often seen as friendly, helpful, and welcoming. Well, is a warm country full of life and light, ready to welcome you!
11. One of the oldest universities in the world
Founded in 1290, The University of Coimbra often displays its proud age in every opportunity. Originally established in the capital of Portugal, it moved around a few times before settling in Coimbra. Today is known for beginning the city of the students where they scroll through the narrow street with its typical uniform. Some say that the famous writer J.K. Rowling get inspired by these customs and create Harry Potter saga! Discover some tours from Coimbra or explore Coimbra from Porto!
12. One of the world's top surf spots
Due to the geographical position, Portugal is blessed with some great swells throughout most of the year! This country has a huge variety of waves and swells size, as a result, these conditions make an ideal location for surfers of every ability. Watch out this wave!
13. Fado music
What about music? Portugal has many great artists, but as far as fado artists are concerned, their greatness is incalculable. This musical style emerged in Lisbon old neighborhoods in the 19th century. Its unique character comes from the Portuguese guitar, a twelve-string instrument with a haunting, melancholic sound. Discover the best places to heard fado music in Porto or in Lisbon!
14. Real food
Portuguese cuisine has been somehow forgotten or overshadowed by French, Italian, or even Spanish Cuisine… but trust us, you don't know what you are missing! Superlative seafood, sun-ripened fruit, lamb raised on flower-speckled meadows, free-range pigs gorging on acorns beneath oak forests. Without them, it just doesn't taste the same. Well, it is enough, this article is making your mouth water! Say yes to gastronomic experiences in Porto!
15. Portuguese are pretty good with English
Yes, it may come as a surprise, but is true! You will find several Portuguese who are fluent in English than in any other country in the South of Europe. So you will not have trouble finding your way around this amazing country.
You really don't need more reasons, did you?
Go Back to the Blog
Subscribe our
Newsletter
and discover our news and monthly promotions