Go Back to the Blog
Spain,Madrid
Art and culture
Catarina Figueirinha
|
11-09-2019
The 5 Gateways of Madrid
Madrid is an amazing city that knows how to keep great secrets! Surely you have heard or already had the opportunity to visit the famous Puerta de Alcalá, the gate that gives access to the city of Madrid! However, this is not the only gate to the city, there are four more examples loaded with history and scattered throughout the Spanish capital. Let's get to know those gates in Madrid?
Alcalá Gate
This is undoubted, one of the most famous Madrid gates, built in the year 1778, was the first arch of the triumph of Europe! It is located in the "calle" Alcalá, near to the El Retiro Park and owes its name to the city of Alcalá de Henares, since it was built next to the road that leads to this city. This monument, considered one of the seven wonders of Madrid, has a very peculiar feature! The two faces of the Puerta de Alcala are distinct and are few those that realize this detail!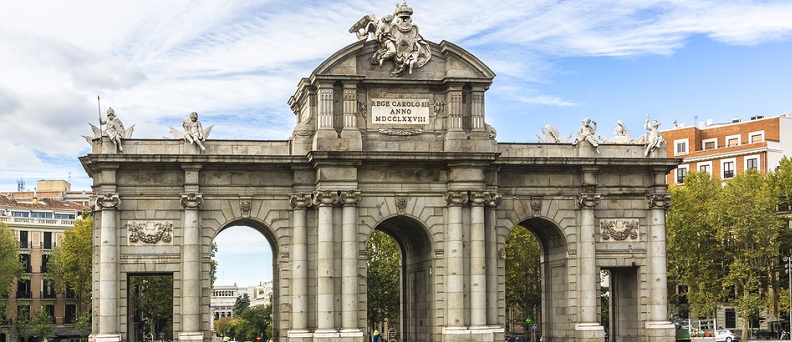 Toledo Gate
The Puerta de Toledo was built to commemorate the arrival of Fernando VII to Madrid. Above the central arch, you will find sculptures representing the power of the Spanish monarchy, as well as the emblem of the city and some military trophies.
San Vicente Gate
Dated from the 17th century, it was made as part of the entrance to the royal palace. However, the original work was, in 1892, overturned to give greater space to the traffic of the city.
Hierro (Iron) Gate
Puerta de Hierro is a beautiful gate in baroque style located in the Monte de El Pardo area, near the University City. This gate allowed access to a restricted area where King Ferdinand VI used to hunt. It is the only door that is not located in the center of the city!
Real Gate
It was originally built as the main door of the Royal Botanic Garden, losing its function when the Murilla Gate was built.
The architect of the Puerta Real was the same as the Puerta de San Vicente, so there are many similar elements between both monuments.
You can find it in Paseo del Prado, unfortunately, it goes unnoticed by many, since it is permanently closed.
Now that you discover the gates that lead to the city, book a Madrid tour!
Go Back to the Blog
Subscribe our
Newsletter
and discover our news and monthly promotions