Go Back to the Blog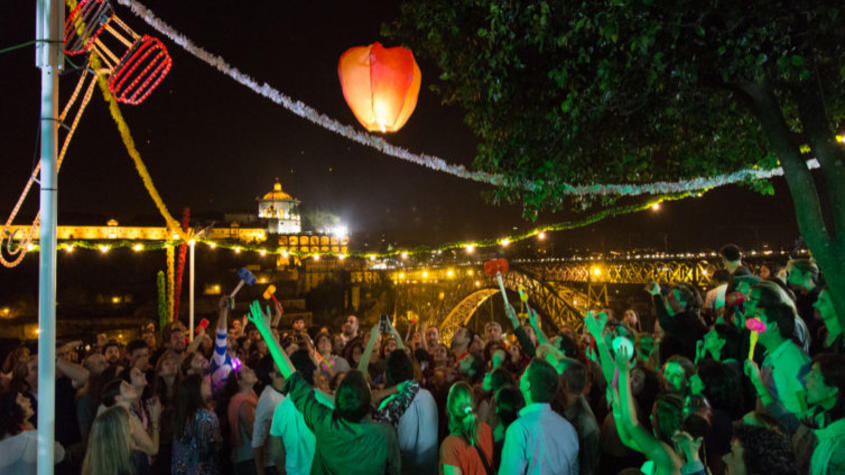 Porto,Portugal
Walking,Curiosities
Rita Meireles
|
25-09-2019
St. John's Festival in Porto
The greatest night of the year is just around the corner: the St. John's festivities in Porto!
If you are lucky enough to be in Porto during the Saint John festival you should know this festivity's most important traditions, rituals, and gastronomy. In this article, you will find everything you need to know to enjoy this incredible event!
The highlight of these festivities is the night of the 23rd to 24th June. On this night, the streets start buzzing with people and a feeling of joy. The tradition is to barbecue sardines with loud music and lots of entertainment. Another gastronomical tradition is to eat "caldo verde" (a shredded green cabbage soup) and finish the meal with a glass of good Port wine! During the night of St. John is common to see people releasing big balloons, painting the sky with hundreds of lights.
One tradition that characterizes the St. John festival is the "soft squeaky plastic hammers", used for hitting passers-by on the head, and it started by university students during the "Queima das Fitas" celebrations.
The St. John's Festivities in Porto have been celebrated in Porto for about 700 years and are part of the city's identity. The origin of St. John's dates to the 14th century and at the beginning, it was a pagan fest, where the people worshipped the Sun god and celebrated the abundant crops. Then it was made into a Christian celebration, in honor of St. John Baptist. When it was a pagan festival one of the traditions was to hang a leek on the wall of the house for good luck, nowadays, people walk with a leek flower and touch people's faces. Another plant that is very common during this season is the potted basil, known as the "herb of the lovers". At the time of the parties, the boyfriends offer the girlfriends a potted basil. In addition to the plant, the vase also has a paper carnation and a small flag with a popular verse alluding to love. Offering a basil is almost like making a vow or a request. The correct way to feel the fragrance of the potted basil is to pass the hand gently on the plant and then smell the hand.
At midnight there's an incredible firework display on the Douro River. Watch a beautiful symphony of bright colors that make the delight of everyone.
After the fireworks, the crowd walks along the river from Ribeira to Foz do Douro or the Matosinhos beach, where they wait to see the sunrise.
Don't forget to bring your plastic hammer and make the most of the night.
Go Back to the Blog
Subscribe our
Newsletter
and discover our news and monthly promotions