Go Back to the Blog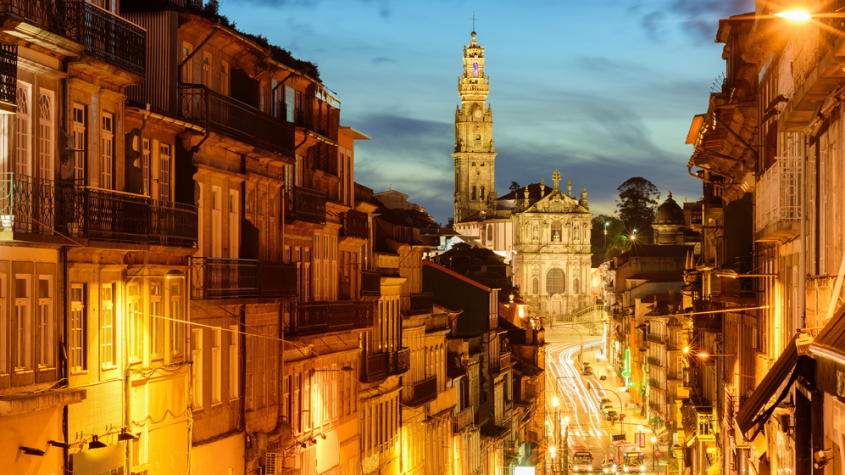 Porto at night: what to do
Are you traveling to Porto and would you like to experience the city like a local? In this article, we give you the best tips for going out at night in Porto and getting to know the city in its naturalness. That's why we have created the complete guide for a few hours of food, drinks and lots of fun in one of the most beautiful cities in the world!
Porto at night: what to do?
Dinner
The beginning of the night begins Downtown, the famous historical area of the city. Nogueira's Porto opened last year and is specialized in grilled meat. The place is quite imposing, sophisticated and cozy. The perfect way to experience an incredible gastronomic experience: a wide variety of meat from around the world, juicy and well-seasoned, delicious cocktails, and aromas capable of satisfying the most demanding of desires. Of note, there are also fish and vegetarian suggestions.
For a true Portuguese experience, why not have dinner at a fado house? After a visit to the historic center of the city of Porto, enjoy a traditional dinner in a renowned restaurant, with the opportunity to watch a live Fado show. The menu is complete: meat, fish or vegetarian option with wine, dessert and coffee included. The ideal way to get to know Porto in its most enchanted essence.
Have a drink
After a good dinner (and, perhaps, a Fado concert), it is an ideal time to enjoy memorable craft beers. At Cervejaria do Carmo there are more than 50 beers to taste, both Portuguese and foreign. The place is decorated with wood, which combines perfectly with the tones of the multiple bottles and with the serenity of the place - although small, is enough not to leave anyone indifferent to the experience. There are also Portuguese sausages, chips or toasties. But make no mistake: the true specialty of Cervejaria do Carmo is in its name.
Another option may be a guided tour of the nightlife in Porto. To meet new people, discover the best bars and nightclubs in the city and share some wines, beers or shots (drinks included) in the most fun! There is lots of music, dancing and socializing to enjoy in the Invicta city.
Dancing and listen to music
"Dancing" and "Galerias de Paris" always go hand in hand. Being one of the busiest streets in the city, especially at night, at Galerias de Paris you will find a dance floor that suits your tastes. Among bars, nightclubs, and pubs, every evening there are events that will awaken the best of Porto's nightlife. You can have a drink, listen to music or dance the night away. You just have to choose the place that plays your favorite music and run to the track!
If dancing is not really your strength, do not worry. This complete guide of one night in Porto also has the solution: music. If a truly well spent night, for you, involves attending concerts, shows or jam sessions, you can also fulfill your wishes in Porto. Remember the best places to watch concerts in Porto.
Going for a walk
Some dance, others go for a walk. So it is in this beautiful city. Our biggest suggestion for a walk in Porto could not be another: Rua das Flores (Flowers Street). From Largo de São Domingos to almost reaching São Bento Station, there is a renovated street full of color, drawings, decorations and... flowers. Restaurants and gourmet shops are also numerous. In addition, with every step you take, music will accompany you. This is because there are many artists playing passionately their melodies, in this street. In our opinion, one of the most beautiful streets in Porto. Perfect for a serene walk, right?
And because going for a stroll does not necessarily imply that it is on foot, there are always tuk tuk rides waiting for you. Lose yourself in the streets of Porto at night on a hand-picked route to get to know the most important monuments of the city. We have a secret for you: at the end of the tuk-tuk ride, you will receive a voucher for a wine tasting. The All in One in a perfect for a night in Porto.
Now that we have given you some tips to venture to visit Porto at night, have you ever thought about how you will live your stay? The "Invicta" is one of the great highlights of tourism in Portugal, passing by word of mouth as an ideal destination to visit, whether rain or shine.
Go Back to the Blog
Subscribe our
Newsletter
and discover our news and monthly promotions