Go Back to the Blog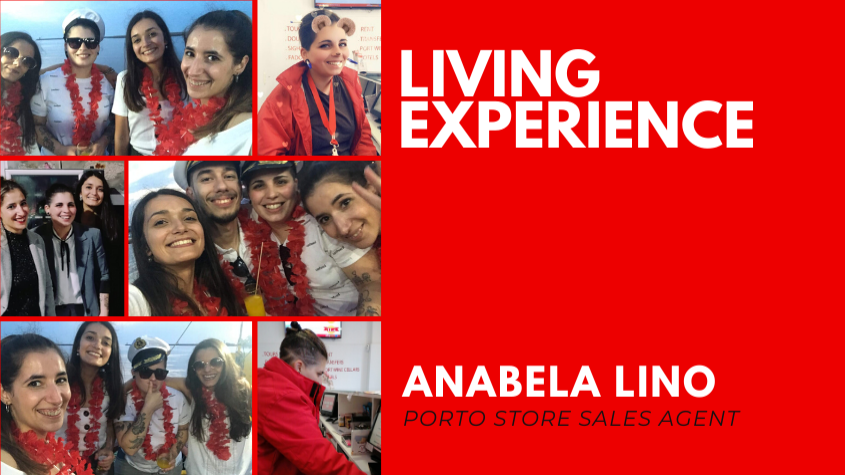 Living Tours
The Living Tours Experience
Vítor Bezerra
|
07-05-2020
The Living Experience - Anabela Lino
Today the Living experience is led by the friendly Anabela Lino.
Anabela has been part of the service and sales team of our agency in downtown Porto for 2 years.
She inspires everyone by her personality.
In the words of the store manager, Cátia Castro: "Anabela has a natural talent for interpersonal relationships. In addition to her constant professionalism in the performance of all the functions that are proposed to her, she stands out mainly for the empathy she creates with clients and with her colleagues.
With her initial posture to appear calm and shy, she allows herself to be won over by the affection and care she has for everyone, leaving the best of her personality in all interactions created with the different clients. "
Her experience, which we report here, reflects all these qualities and is told by Anabela herself:
"I think that perhaps the experience that marked me the most was that of an Asian lady named Bee, who entered the agency asking for help to make the Saint James way (Caminhos de Santiago), which would start 2 days later.
He told me that he had already visited the cathedral and that he had been provided with a map with possible routes, as well as places to stay and its location.
According to her, she did not understand very well how to get out of the city because she was not very good with maps and as she was alone, she was afraid of not following the right route.
I made myself available to help her, marking the entire route to the place where I had already made a reservation, explaining landmarks that I would find until I got there.
While we were talking, she told me that she had purposely come to Porto to start the Caminhos de Santiago, because it was an old wish for her and her husband, which they were slow to realize, as a result of the illness he suffered.
When I saw her alone, I realized that her husband had passed away and while she was telling me about her experience, both she and I let the emotion take over us.
She explained to me that she was going to make their dream come true, in the same way they had planned and that the love that united them was so strong that she never let her feel alone and that she felt that he accompanied her in every step she took. We embraced, moved, taking a photograph afterwards.
He thanked me for the help I gave him and for taking the time to listen. I thanked him for feeling that he could tell me his story, wishing him good luck, making sure that he would fulfill his purpose.
The next day, he returned to the agency to say that he would start that day. She thanked him once again, bringing egg cuttard tard (Pasteis de Nata) as a symbolism, because according to her "it was the sweetness she liked the most since she started the trip".