Go Back to the Blog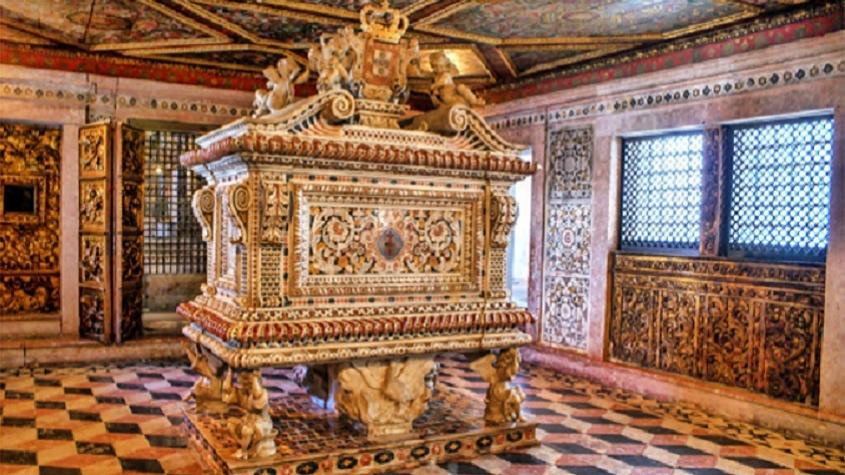 Cláudia Pedrosa
|
13-05-2020
The legend of Joanna, Princess of Portugal
By Cláudia Pedrosa, Living Tours guide
In the charming city of Aveiro, May is a time of grandiose parties in honor of its patron saint: Princess Santa Joana.
Famous for its canals navigated by moliceiros (typical boat), the city of Aveiro met Princess Joana, daughter of the King of Portugal D. Afonso V, in the last 15th century.
Owner of a unique beauty, the older sister of the future King D. João II, from a young age revealed a strong religious vocation. Despite living at the Court, he tried to stay away from parties, preferring to pray and meditate. Joan was very charitable, regularly offering alms by her own hand to the poorest in the kingdom.
Although there is no shortage of suitors, much to the chagrin of her father, the princess asks to follow the religious life. After a visit to the Convent of Odivelas, in 1472, the princess enters the old and poor Convent of Jesus of the Dominican Order (current Museum of Aveiro), where she will live until May 12, 1490.
In my school days I had a school book that told the following legend:
"That May, the gardens and orchard of the monastery of Jesus, in Aveiro, were flowery and green like never before.
Many plants had been arranged and watered lovingly by the hands of Princess Santa Joana, who lived in this monastery.
The best recreation for the daughter of D. Afonso V was to leave his cell and walk with the other nuns in the shade of those trees and in the middle of those flowers.
However, the end of the Holy Princess had arrived. All the church bells tolled to death, and in the monastery, there was a loud cry because she had stopped living.
They prepare her tomb in the church choir and organize the funerary procession from the cell, passing through the gardens, so that the plants she so dearly cherished for the last time.
Then there was a wonderful case! As the funeral was over, all the herbs began to wilt and the flowers to defoliate. The leaves and new fruits dried on the trees and fell sadly on the coffin.
Nobody could contain the tears, when seeing that nature itself took part in the feeling that, by the death of the Saint, filled the court and the kingdom of Portugal."
The Aveiro Museum houses in the low choir of the old Church one of the most beautiful national tombs: the Princess Santa Joana
Beatified in 1693, it is celebrated on May 12. On January 5, 1965, Pope Paul VI declared her special protector of the city of Aveiro.
These two paintings (18th century) are found in the Sala de Lavor (the place where the Princess died), in the Museum of Aveiro.
Go Back to the Blog
Subscribe our
Newsletter
and discover our news and monthly promotions