Go Back to the Blog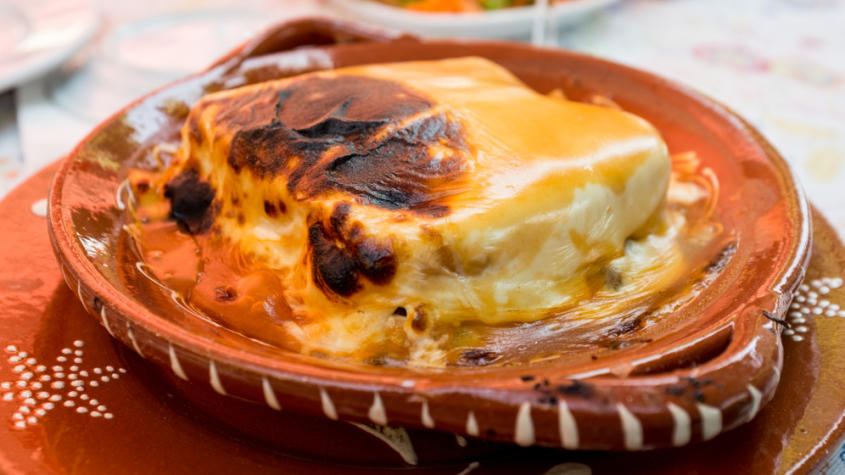 Porto,Portugal
Curiosities,Food
Catarina Figueirinha
|
18-09-2019
The story and the recipe of Francesinha, the most famous sandwich in Portugal
Francesinha, the most typical meal in Porto, tells a truly peculiar story. Among the legends were the inspirations to recreate the most delicious dish of the city. Let's get to know the whole story and later enjoy the recipe!
There are many stories about the origin of Francesinha, but they all mention the same man, Daniel David de Silva. Emigrated for years in Belgium, returned to Portugal with the desire to continue the restoration business, but this time, as the owner of Regaleira. Inspired by the "croque mounsier" sandwich, a French classic, he created something new that was accompanied by an orange sauce. The first to taste this innovative sandwich were the usual customers, who visited the Regaleira daily. The pleasure was unanimous. Only one question remains, "What name should be given to this snack?" It was then that someone suggested the name "francesinha". It may not make sense at first impression, however, this idea brings something spicy with it! In the 1950s, Portuguese women were more conservative, while French women were more uninhibited. Would such a spicy and provocative dish deserve a name that characterized the confident and elegant French women so well? Needless to say, the francesinha became quickly very popular and that several imitations emerged after the creation of Daniel David de Silva.
Nowadays, you will find countless houses that served francesinhas in countless ways!
The time has come to learn how to prepare this gastronomic delicacy at home or during a cooking class!
Ingredients:
Loaf of bread (2 slices per person).
Beef steaks (thin and tender).
Fresh sausages.
Cheese slices.
Ham slices.
One egg for each francesinha (if you like francesinha with egg).
Olive oil.
Tomato paste.
Onions and garlic.
Broth.
Bay leaf.
Half a liter of beer.
0.5 dl of port wine.
2dl of white wine.
0.5 dl of whiskey or brandy.
Salt, chilli, pepper.
Preparation:
Start by making a sautéed with onion and minced garlic accompanied by a drizzle of olive oil. Add the tomato pulp, broth, bay leaf and gradually add alcoholic beverages. Season with salt, pepper, and chilli. You can add pieces of tomatoes if you find it necessary to thicken the sauce.
After boiling, remove bay leaves and pass everything through a magic wand. Return to the boil at least while preparing the sandwich.
Grill beef steak and the fresh sausages. Put the bread slices in a toaster without letting them crunchy. Once grilled, add the meat to the two slices of bread. In the middle, add some slices of cheese. Completely cover the sandwich with cheese slices. Bake to brown and let the cheese melt a little. Put the hot sauce over the sandwich and, if you want, accompany it with chips!
You know, you can always learn how to prepare francesinha with an expert before setting off on your own, enjoy!
Go Back to the Blog
Subscribe our
Newsletter
and discover our news and monthly promotions