Go Back to the Blog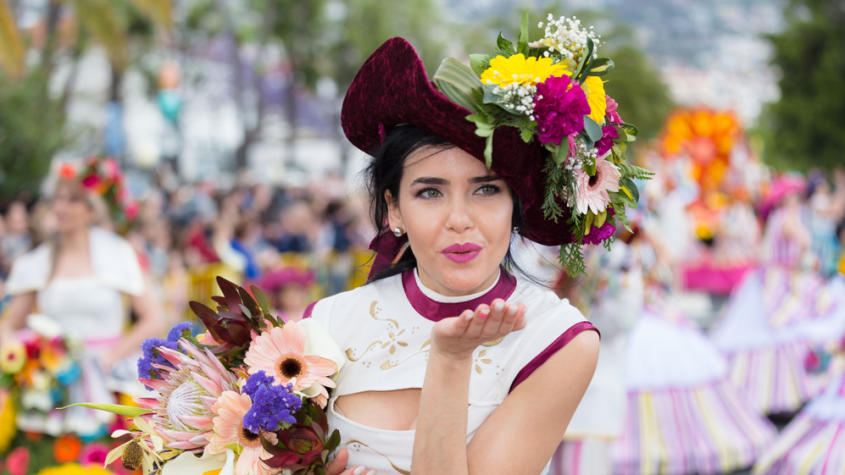 Portugal,Madeira Island
Celebrations and festivals
Catarina Figueirinha
|
28-01-2020
Flower Festival in Madeira
You never saw a festival like this one! Flower Festival in Madeira Island is a tribute to the spring season, and hence to the flowers. Due to this festival's importance, many tourists choose this time to visit the beautiful Portuguese Island. Now that we have caught your attention, let's find out what are the main activities to do in this colorful season.
"Why flowers?", you ask. The answer is quite simple, especially if you have already the opportunity to visit Madeira. Madeira is all about flowers, they grow everywhere! Thanks to its subtropical climate and volcanic soil, you can find a lot of flower species and spring is the perfect time to see them bloom! Following this, Madeira welcomes spring and in what a way! Probably the most colorful one! So, during this festive season, everything on this island is about flowers, and believe, you're not gonna get sick of it!
Flower Festival in Madeira takes place from April 30th to May 24th and includes two main activities: Flower Allegorical Parade and Wall of Hope.
Flower Allegorical Parade, it is held since 1979 and is the highlight of the Flower Festival. With more than 1000 participants, the watchword here is creativity! You will see the most amazing dresses, floats, and costumes made of flowers! Can you imagine that? This event is famous for its magnificence and eccentricity since all the participants want to show the best dress-code! This parade takes place on Sunday, May 3rd.
Wall of Hope, this lovely event with more than 30 years of existence, delivers a powerful message to the world. Kids march with flowers in their hands towards Praça do Município, where they leave flowers in the "Wall of Hope", which symbolizes a call for world peace. This event usually finishes with a release of doves and a children's show. This event takes place on Saturday - May, 2nd.
Besides these two big activities, Flower Festival offers other greats activities that you can check above:
The streets will be decorated with flower carpets, a tradition with origins in religious celebrations of the island. Behold the most original, colorful and artistic ones! Discover the diverse flora of the Island in the Flower Market. Here you will be able to see flowers from all over the world and buy them. Besides flowers, you will also find gastronomic treasures of the island. Throughout this festive season, you will find music and live shows in every corner of Madeira Island.
Are you expecting to visit Lisbon and do know how to get to the Flower Festival in Madeira? There's a special pack from Lisbon to Flower Festival, take a look!
Go Back to the Blog
Subscribe our
Newsletter
and discover our news and monthly promotions