Go Back to the Blog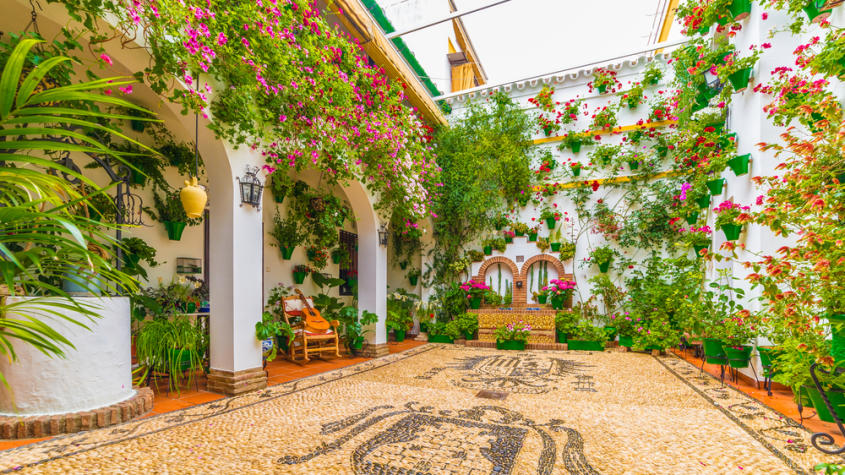 Cordoba
Art and culture,Celebrations and festivals
Catarina Figueirinha
|
26-11-2019
Los Patios de Cordoba, the most colorful festival in Spain
Cordoba patio(courtyards) festival symbolizes one of the most colorful seasons in all of Spain! Every year during the first week of May the art of decorating courtyards is celebrated. These typically Andalusian courtyards are always richly decorated with flowers, fountains, tiles, and other decorative elements, creating a unique atmosphere capable of making us fall in love with the simplest detail.
The best time to visit Cordoba is without a doubt during the Festival of the Patios (usually in the first week of May) to contemplate the majestic courtyards of each participant. The purpose of this festival is to preserve the typical architecture of the city and the historic center that, over the years, has been affected by the growth and expansion of the entire region. Therefore, the citizens of Cordoba gather to embellish their "patios" in hope of winning an award based on parameters such as architectural value, originality and floral decoration.
If you plan to visit Cordoba before or after this date, don't worry, you still have the chance of contemplating these beautiful "patios" throughout the year. Since it was declared a UNESCO Cultural Heritage Site in 2012, many of these courtyards have been open to the public every day, discover how to visit it!

Palacio de Viana
In addition to all these private courtyards in Córdoba, there is also a 14th-century building, popularly known as "The Museum of the Courtyards", which displays about 12 lush courtyards for all tastes! These beautiful indoor gardens are considered an architectural fusion of the Roman and Andalusian worlds, imagine what a fantastic combination!
All the rooms in the Palacio de Viana offer a view to the courtyards, a must-see place if you are visiting Cordoba. There are two types of entrance in Palacio de Viana, one that only includes a visit to the courtyards and the other one includes a visit to the courtyards and the Palace itself. The tour inside of Palacio de Viana and courtyards is quite interesting, although we should not look at the space as a museum, but rather as a place that was previously inhabited. We advise you to choose the visit to Palacio de Viana and courtyards so that you can get to know a real noble house and discover an evolution of architectural and decorative styles that will demonstrate the supremacy of the time.
Explore Cordoba is to discover its culture, and the culture of Cordoba is closely linked to the decoration of its courtyards. That's why, even if you don't have the chance to visit Cordoba during the Los Patios Festival, you should visit some of the courtyards that are open to the public all year and of course, the breathtaking Palacio de Viana.
Go Back to the Blog
Subscribe our
Newsletter
and discover our news and monthly promotions