Go Back to the Blog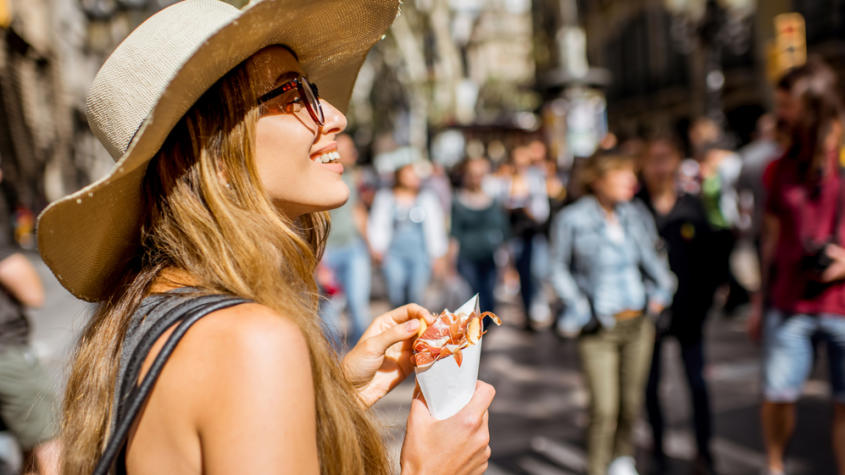 Spain,Barcelona
City guides
Catarina Figueirinha
|
20-09-2019
Visit Barcelona in 48 hours
We can already say that Barcelona is a good choice, if not the best, for a city break! A city decorated by Gaudí, the master of modernism, and a city who knows how to take advantage of the Mediterranean seafood at its table. The cultural baggage is from another world. Come on, we have 48 hours ahead!
1st day
Start your day in the "ciutat vella" (old town) to explore Barcelona's most famous neighborhoods, El Born and the Gothic Quarter. Lose yourself in the immensity of Gothic architecture and take some time to visit the Picasso Museum. The artist originally from Malaga lived during his early years as a painter in Barcelona and it is this phase of the artist's life that the museum portrays.
Discover fresh flavors in Barcelona food markets. The most popular and the ones we recommend a visit are La Boquería and Santa Caterina markets. Colorful markets where you can experience the local cuisine in the best way, tasting!
In addition to all this cultural value of Barcelona, the city is also home to one of the best football clubs in the world, F.C. Barcelona. If you like football, you are sure not missing a visit to Camp Nou.
Seize the last minutes of the day enjoying the city sunset. The Mediterranean Sea not only presents Barcelona with the best seafood but also with overwhelming views. Enjoy a relaxing cruise to the sound of jazz music.
2nd day
Did you really think you would leave Barcelona without visiting Gaudí's works? In fact, the artist spread throughout the city several works of invaluable value, however, with only 48 hours, we chose the most famous and must-visit. We're talking about the Sagrada Familia and Park Guell!
Probably you didn't wait until the 2nd day to taste the famous tapas and wine! Wherever you go, you will find delicious dishes served in small portions. Take a break and enjoy the most typical Spanish food.
End up in a great way and see the art of flamenco! This is a perfect opportunity to feel the culture and soul of these people who sing and dance like if it was the last time.
You can always replace one of the itinerary days by a destination near Barcelona. We recommend visiting Montserrat, Girona or Figueres (birthplace of Salvador Dalí).
See you soon Barcelona!
Go Back to the Blog
Subscribe our
Newsletter
and discover our news and monthly promotions